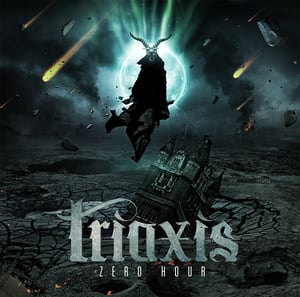 £

6.00 - On Sale
The hotly anticipated Triaxis third album 'Zero Hour' released May 2015.
Zero Hour features over and hour of music and comprises of 12 tracks:
1. Liberty
2. Death Machine
3. Ministry of Truth
4. Terraform
5. Dying Sun
6. Victorious
7. Stand Your Ground
8. Queen of the Iceni
9. End of Time
10. Lest We Forget
11. Voices
12. Zero Hour
Drums recorded at Grindstone Studios, engineering and produced by Scott Atkins.
Guitars, Bass and Vocals engineered and produced by Glyn Wiliams.
Piano & Orchestration written and performed by Glyn Williams
Produced by Glyn Williams, Scott Atkins, James Stephenson and Triaxis.
Mixed and Mastered by James Stephenson at www.stymphalianproductions.co.uk
All tracks written by Triaxis. Except 'Death Machine' and 'End of Time' written by Triaxis and Owen Crawford.
Published by Scarlet Songs - www.scarletsongs.com
(c) Triaxis. All Rights Reserved.